Back to Blog
Annual Benefit Dinner a big success
---
Event raises about one-third of agency's yearly budget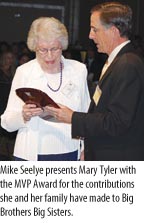 "Kalamazoo is not the biggest city, but there are a lot of people with big hearts here." This sentiment from Corey Person, a Kalamazoo Central High School graduate and former University of Michigan basketball player, neatly sums up how Big Brothers Big Sisters is able to gather more than 700 supporters in one room for the Annual Benefit Dinner.
Not only is it impressive for the agency to hold the largest fundraising event in southwest Michigan each year but the event raises about one-third of the agency's yearly budget.
"Our Annual Benefit Dinner helps make it possible for us to achieve our mission of providing children facing adversity with strong and enduring, professionally supported one-to-one relationships that change their lives for the better, forever," says Amy Kuchta, executive director.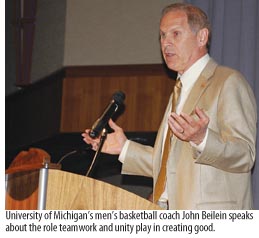 This year's Annual Benefit Dinner was held on June 17 at the Radisson Plaza Hotel in downtown Kalamazoo and featured University of Michigan men's basketball coach John Beilein as the guest speaker.
During his speech, Beilein spoke about teamwork and unity and the role they play in creating good in a community. "When you look at this community service, the unity here in Kalamazoo with this one event with Big Brothers Big Sisters, this is a great example of what can be accomplished if people hang together," Beilein says.
Person, the former U-M basketball player, noted as he introduced Beilein that programs like Big Brothers Big Sisters and mentors helped give him the opportunity to go to college. It is important for these programs to continue so that other kids can be helped, Person says.
In addition to Beilein's and Person's speeches, Big Brothers Big Sisters Annual Benefit Dinner committee honored Mary Tyler and her family with the MVP Award for their dedicated support of the agency for many years.
"The Benefit Dinner – and quite frankly, the agency – is so successful year after year due to the efforts of many people," Kuchta says. "We are grateful to supporters like the Tyler family, the Benefit Dinner committee, our corporate sponsors, individual supporters, and volunteers who all contribute their time, talent and resources so that the agency can continue to help all children achieve success in life."