Back to Blog
Big's influence still felt decades later
---
'I can't imagine where I'd be today without him'
In late 2000, now-retired Pfizer employee Bob Short was reviewing resumes when he came across a familiar name. The name matched that of his former Little Brother. Could this be the boy he had mentored for two years nearly two decades ago?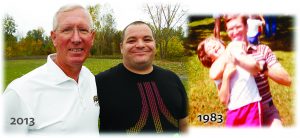 The applicant's age, hometown and high school lined up with information Short knew about his former Little's background. "The more I looked at it, the more I was convinced it was the same person," Short says.
Short's Little Brother, Stephen Ames, moved away from Kalamazoo just shy of the pair's two year match anniversary and they lost contact. "I always wondered what happened to Steve," Short says.
Ames was hired at Pfizer though Short did not see him during the hiring process. The day Ames arrived for his first day of work at Pfizer, Short was proven correct: the 9-year-old boy, who had moved to San Francisco in 1984, was back in Kalamazoo as an adult.
The two reconnected for a brief time that first day. "He came down the stairs and yelled, 'Steve!'" Ames says. The next day, the two looked at photos of the times they spent together years before. They have been in contact ever since and socialize when possible, attend gatherings at one another's homes and go out to dinner together with their wives. "Even after 18 years, when we reconnected, it felt like old times," Ames says.
While their match lasted just short of two years, the impact it had on Ames has been long lasting.
Matched when he was 8, Ames hadn't had a male role model since his father left the family when he was 3. He was having difficulty in school, had trouble making friends and his fine motor skills were slow in developing. Ames's mother hoped that the steady influence of a Big Brother would help him and, while the two would just "hang out together and do normal stuff," those everyday activities still bring smiles to the pair.
They often attended Big Brothers Big Sisters' sponsored events and particularly recall an egg toss contest in which they placed second. "When the egg broke, Steve came running to me and threw himself into my arms, saying, 'We lost! We lost!' And I told him, 'No, we didn't lose. We came in second!"
It was during teachable moments like this where Short had great influence on Ames though he didn't know it at the time. It wasn't until the two reconnected that he began to understand the difference he had made on the younger man's life. "I saw Steve's mom at a cookout at his house and she came up to me and said, 'Thank you. You've had a big impact on Steve's life.'"
Ames echoes this sentiment. "Bob was that one stable person who was always there for me," Ames says. "He showed me a lot of love."
Short beams with pride when talking about Ames and the life he leads. "He's done the hard work but to be a little part of that makes me feel good," he says. "He's a good man."
Ames won't let Short get away with saying he only played a small part in his life. "Bob gave me the positives that I probably wouldn't have had without him," he says. "I can't imagine where I'd be today without him."