Back to Blog
Bigs plant seeds for Littles' future careers
---
Kids get behind-the-scenes view of Bronson Battle Creek
If you've ever watched a hospital-based television show, you might think the only people who work in the medical field are doctors and nurses. But Battle Creek Public Schools' students who participate in the Big Brothers Big Sisters/Bronson Battle Creek Bigs in Business program know better.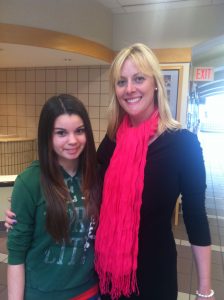 The Littles, all from Springfield Middle School, get a behind-the-scenes look at the hospital, says Beatrice Orns, human resource specialist for Bronson Battle Creek and coordinator of the hospital's Bigs in Business program. The students are transported to the hospital twice a month to meet with their Bigs, all Bronson Battle Creek employees.
"The Littles see physicians, nurses, administrators, the chef, and lab techs to mention a few," Orns says. "They learn that they could work in a hospital but it doesn't have to be in direct patient care. It plants seeds in them for possible careers."
Since the program began in 2008, more than 20 students have received this unique view of the hospital. This school year marks a new year in the program's three-year cycle (sixth to eighth grade). So far, eight new Littles have been matched with mentors at Bronson Battle Creek.
The Bigs also work with their Littles in helping them imagine potential careers. One of these mentors is Veronica Troutner, who is returning for her second turn as a Big Sister. In her first Bigs in Business match, she was paired with Bri who is now a 15-year-old high school student. Their friendship started with them going to Veronica's office and talking about what Bri wanted to do when she grows up. "We'd talk about different careers and then look up the salaries," she says.
Of course, Bronson Battle Creek's Bigs in Business program isn't just about the Littles' future careers. Matches sometimes meet as a group for games and other times individually to talk or take part in an activity for just the pair.
Troutner, manager of physicians' relations for the hospital, recommends Bigs in Business as the perfect introductory mentoring experience. "Bigs in Business is a great way to get to know a child without a big time commitment since it fits into your work schedule," she says. "You learn how to mentor in this program because you get to be with the same child for three years. You see the child develop and you see your impact on them."
For her part, Orns believes that having Littles come to the hospital for mentoring is a natural fit for Bronson Battle Creek. "We are dedicated to caring for others and we just use that same devotion and desire for care but for a well person," she says. "Introducing the students to a hospital setting early in their lives is an important reason for us to participate in the Bigs in Business program. We are building trust with the kids and when they trust the environment, if they get sick, we want them to feel confident with us."
In the end, both the Littles and Bronson Battle Creek benefit.
"We understand the kids in the program face challenges so even a small impression in a professional environment can make a big difference," Orns says. "We want to stretch their horizons, to help them think about going places they would never have considered. We want to give the kids hope. We want them to know that the sky's the limit without limitations.