Back to Blog
Bowl for Kids' Sake team-building exercise for Fabri-Kal
---
When the Mad Hatter fell down the rabbit hole – er, bowling lane – at last year's Bowl for Kids' Sake in Kalamazoo, it was OK because Alice, Rhett Butler and a whole horde of nerds were there to pick him up. The Mad Hatter, AKA Mike Saunders, was part of the Alice in Wonderland team, one of Fabri-Kal's six teams that celebrated "Movie Magic" at Bowl for Kids' Sake.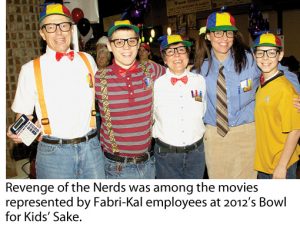 Fabri-Kal employees have been participating in Bowl for Kids' Sake for more than 20 years and, for much of that time, have been sporting creative costumes to help ramp up the fun. "The costumes help get everyone excited and create more competition between the teams," says Howard Lynch, Fabri-Kal's credit manager and Bowl for Kids' Sake organizer.
This year will be the 22nd consecutive year Fabri-Kal employees have participated and raised money for Big Brothers Big Sisters. "Since 1991, we've raised more than $35,000 for Big Brothers Big Sisters," Lynch says. "Last year we raised $2,765."
Lynch points to the company's support of the event as being an important part of the success of recruiting bowlers and team captains. "I'm able to send out corporate-wide emails promoting Bowl for Kids' Sake and we set up an information table in the lunchroom in the weeks leading up to the event," Lynch says. The day before there is a rally in the lunchroom for all employees.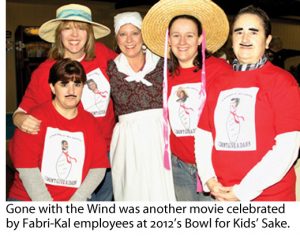 Last year, the rally built on the company's "Movie Magic" theme with movie-related trivia games. However, Howard Lynch's favorite theme year, "Bubba," brings back the fondest memories. That year brought the Bubba Olympics to Fabri-Kal. Employees had a water melon-seed spitting competition, a rubber chicken throwing contest, "tractor" (tricycle) races, and visited the "outhouse" (a refrigerator box).
At the rally, employees who aren't able to join in the fun on Bowl for Kids' Sake day can donate to a sponsorship fund that is split evenly between all the Fabri-Kal bowlers and helps increase their fundraising totals.
Lynch says Bowl for Kids' Sake is a good team-building experience for employees. Employees who sign up to bowl are distributed evenly on teams according to their bowling abilities. That way, team skills are evenly distributed when competing to win trophies (and bragging rights) for highest scores and employees get to interact socially with coworkers from different departments.
Bowl for Kids' Sake is an event that Fabri-Kal employees look forward to, Lynch says. "It is a great way to help out Big Brothers Big Sisters if you can't become a Big," he says, "a great way to relieve cabin fever in the winter and it's a fun social event that promotes camaraderie among colleagues outside of our business."