Back to Blog
Eaton Bigs program helps build better futures for Littles
---
The main task for employees at Eaton Corporation's Galesburg site is to support building large commercial vehicles but some staff members have been building something even bigger: better futures for local children. Since 2006, Eaton employees have been mentoring students from Kalamazoo's Milwood Magnet School, A Center for Math, Science and Technology through Big Brothers Big Sisters' Bigs in Business program.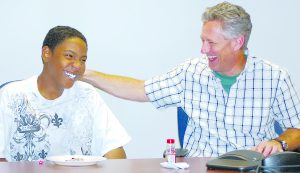 The arrangement has benefitted the company, employees, and students, says Eaton's Kristen Kubicek who serves as program coordinator and a Big Sister. "Short term, this gets employees engaged in the world outside of work," Kubicek says. "Long term, it helps the Littles envision what they can do in the world.
"As for what it does for the company, at Eaton we are powering communities and I believe the Bigs in Business program does that. We are helping to build the future workforce for Eaton and the rest of the community."
The program is convenient for the Bigs because every two weeks Littles are transported from school to Eaton. Sometimes the Littles meet individually with their Bigs and other times they meet as a group. The employees make sure the Littles see what the Big does at work.
"The Eaton program exposes Littles to a very professional environment that they might not have ever had the chance to experience," says Carmen James, BBBS service delivery specialist for the Eaton program. "I've personally noticed that it has helped some of the Littles gain a greater sense of the future and it makes success look to be an attainable goal."
Bobby, a Milwood eighth grader, says his Big, Don Bolthouse, Jr., "has taught me to always do my best and to set my goals high." Bobby and Don have built their relationship with visits at Eaton over the last three years. "I would have to say that our conversations are my favorite activity of all," Bobby says. "We talk about all sorts of things like my education, the transmissions that he works on, and even science technology."
Mary Hoyle, school/home/community resource specialist for Milwood Magnet School, says that while it is difficult to measure the quality and power of relationships, she believes the Bigs in Business program is beneficial to student participants. "Students in this program have connected to their Bigs and look forward to seeing them and adult attention is not something many middle schoolers seek!"