Back to Blog
Plainwell Community Schools committed to mentoring
---
A boy who was close to failing all his classes turns his grades around. As a sixth grader, a girl has no interest in earning a high school diploma but then goes on to graduate. An adult and former Little Sister sees her Big Sister and proclaims, "This is the woman who saved my life! I wouldn't have made it without her."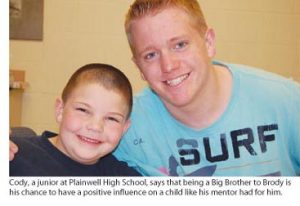 These are just a few of the success stories from the Plainwell Community Schools' partnership with Big Brothers Big Sisters. When the program began in 1999, middle school counselor and program coordinator Joanne Coy wanted to start small. "We were aiming for 10 matches," Coy says. "We were just trying to serve kids who needed it."
The Plainwell Bigs in Schools program (called Partners of Promise at the middle school) has come a long way in 13 years. The program has blossomed from having matches only at the middle school to include two of the district's elementary schools and the high school. Next school year, the third elementary will come on board. This school year, 44 students with mentors are joining the more than 450 Plainwell students who have been matched with a mentor since 1999.
A commitment to mentoring students runs throughout the district, starting at the top. Susan Wakefield, Plainwell Community Schools' superintendent, was quick to explain why the district's partnership with Big Brothers Big Sisters is so important. "I know this program is critical because mentoring works," Wakefield says. "The most valuable thing that kids want from adults is their time and attention. So many kids have a void in that area and it is critical in their development."
While the Plainwell program began with adults mentoring middle school students, it has grown to include high school students mentoring elementary students. During their junior and senior years, high school volunteers spend time each week with an elementary student. One of these 23 students, Cody, a junior, has even come full circle with the program: he was a mentee for three years as a middle school student and is now a Big Brother to an elementary boy.
Cody became a Big Brother because of the positive influence his mentor, Scott Cohoon, had on him. "He influenced me in a big way," Cody says. "Before meeting Scott, I wouldn't talk to anyone; now I'm outgoing.
"This is a chance for me to pay it forward, to have an influence on a kid like Scott had on me. Plus, it's fun," Cody says.
Cody says his relationship with his Little Brother, Brody, is already having positive results. Brody is talking more with other students and is doing better in school. "I help him with his homework and he knows if he's behind on an assignment, we have to work on that before we do something else," Cody says.
This sense of community and level of commitment to the Plainwell Big Brothers Big Sisters program is not unusual, Joanne Coy says. The mentors are all from the Plainwell community; some are graduates of the district and others are local retirees, school staff, school board members, and parents of other students in the district.
Many of these mentors have been involved with the program for years and have mentored several students over that time. Also, the mentors tend to stay matched with the same student even as the child moves on to high school. This helps the mentoring relationships enhance the students' connection to the community. "Through this program," Coy says, "they know that people care."