Back to Blog
Volunteering 'helps the student-athletes understand how easy it is to help others
---
WMU baseball team's coach, players dedicated to mentoring.
Imagine being a 12-year-old sports fan and being told that not only are you finally being matched with a long-awaited Big Brother, but that he's a college athlete. Since 2010, this scenario has played out for 55 boys due to the dedication of Western Michigan University's (WMU) baseball coach Billy Gernon and his team.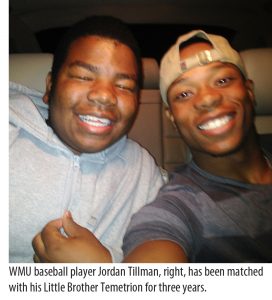 Gernon became involved with Big Brothers Big Sisters in the early 1990s after his younger brother, a senior in high school, was killed in a traffic accident when Gernon was a senior in college. "The next couple of years, I definitely did not function well," Gernon says. "I finally decided that I had to get out of my own way and go help someone."
That someone was a Little Brother he mentored for eight years while Gernon was living in southern Indiana. Though that match ended some time ago, it spurred a long-term commitment to Big Brothers Big Sisters by Gernon. Shortly after arriving in Kalamazoo in 2010, Gernon began urging his team to get involved in the community as Big Brothers or in another capacity such as Special Olympics.
This year, 22 out of the team's 32 players are serving as Big Brothers. Most of those matches will take place as part of the Bigs in Schools program at Hillside Middle School in Kalamazoo. Coach Gernon plans to carpool with his team to the school when they meet with their Littles. Though he isn't currently a Big himself, Gernon wants to demonstrate his support for the friendships and get to know the Little Brothers.
One of the long-term WMU Bigs is Jordan Tillman, who began mentoring Temetrion when he was an eighth grader at Kalamazoo's Maple Street Magnet School for the Arts. The match has evolved from being school-based to being a community-based match. Now a junior at Loy Norrix High School, Temetrion says his friendship with Jordan has been "pretty amazing. Before I met Jordan, I didn't have anyone to hang out with or to help me."
Tillman helps Temetrion with school work and is helping him figure out how to turn his passion for sports into a college major. Temetrion, who hopes to go to WMU, is considering the school's sport management major which he learned about from Jordan.
Though he is busy as a full-time student and athlete, Jordan makes sure he sees Temetrion at least every other weekend and often takes him to family gatherings at the Tillman home in Portage. Going into the match, Jordan says he "didn't expect to get anything out of" the relationship but now says he expects this to be a life-long friendship.
Temetrion says that he hopes his friendship with Jordan will continue for many years. The high school junior says he has gained self-confidence from his match with Jordan. "I've learned that I can do what I want to do and no one can stop me," Temetrion says.
Gernon says he will continue to urge his players to become involved in the community. Volunteering "helps the student-athletes understand how easy it is to help others," Gernon says. "It's a magical reward, better than money or anything else."