Back to Blog
Big Brother helps Little turn his life around
---
Ryan DeNooyer's face lights up with pride when he talks about his Little Brother Shaquille. He is very proud of the progress his Little Brother has made in the three years they have been matched.
As the match began, Shaquille's once good grades were slipping, he had problems at home and had begun hanging out with the wrong crowd. But three turbulent years later, the now 15 year old is focused on his future. He is earning A's at school, working part-time, going to church regularly, and hoping to attend the University of Michigan.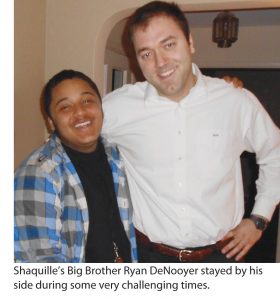 DeNooyer has helped Shaquille face some very challenging issues. For the first six months of the match, Shaquille was underperforming in the classroom, had serious anger issues and was lashing out at those close to him. After several interactions with law enforcement, he spent six weeks in the Kalamazoo County Juvenile Home.
The time he spent in the juvenile justice system was the turning point for Shaquille. "I learned that there are a lot of opportunities out there for me but I can't have them if I'm in jail," Shaquille says.
Shaquille's and DeNooyer's match is part of a partnership between Big Brothers Big Sisters and Youth for Christ. Matches in the program receive support from both agencies. This extra support was helpful as Shaquille struggled during the early days of the match because, even as he stuck by Shaquille's side during this difficult time, DeNooyer was questioning whether the match could last.
"The first year and a half, Shaq didn't listen to me," he says. "I felt like I wasn't helping him. I was at my wits' end." DeNooyer considered ending the match – and his relationship – with Shaquille but his mother and Scott McCloughan, the pair's Youth for Christ counselor, urged him to stick with it. "I prayed about it and three to four months later, it began to improve."
The changes in Shaquille's life came with a positive change in his friendship with DeNooyer: the development of trust. "Ryan let me into his life, I met his family and friends and that led to me trusting him," Shaquille says.
Having trust goes both ways, DeNooyer says, "but once we developed that trust on both ends, our relationship became easy."
Today, the two enjoy a close friendship full of laughter. Following the advice of his BBBS match support specialist, Patricia Gardenhire, DeNooyer includes Shaquille as he goes about his normal, everyday activities.
The pair has big plans for this summer as well. A trip to Chicago is scheduled and they will travel to the Dominican Republic on a mission trip.
While the beginning of their match was difficult, DeNooyer says that remaining consistent and persistent with Shaquille has led to a fulfilling friendship for both of them. "What Shaq gets out of it, I'm getting the same thing out of it," DeNooyer says. "I get joy out of it."