Back to Blog
Big Sister was 'always there for me'
---
By the time Deeanne Rogers was 9 in 1974, she had already lived a life that was extremely unhealthy and full of emotional pain causing her to become aggressive towards others and herself. Deeanne's teacher recognized that the little girl who loved to fight was acting out in response to events beyond her control and arranged for her to get a Big Sister.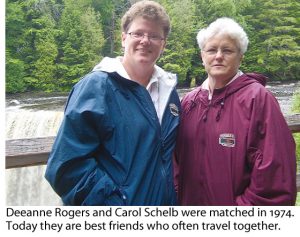 Carol Schelb was a married mother of a 7-month-old baby boy when she met Deeanne. "Our backgrounds, though entirely different, proved not to be problematic," Carol says. "We instantly bonded."
That bond has been strong for 38 years.
"We began by doing typical events and activities such as ice and roller skating and movies," Deeanne says. "After a short period of time, Carol began having me visit her home, attend her family activities, and began including me in her vacations.
"Our relationship continued to grow and I was included even with Carol's extended family in all ways, just like I was a part of them from birth."
Experiencing this traditional family was an eye-opening experience for Deeanne. "This was the first time I saw real relationships," she says. "Carol's family felt safe, stable, genuine, and full of love. This family felt normal, even though I never knew what normal was."
Regularly, Deeanne joined the family for meals and participated in family games. These experiences brought life-long change to Deeanne. "Carol was the mother I never had," Deeanne says. "She was always there for me and provided consistent love, support, stability and friendship without fail.
"For the first time, I felt like I had someone who was always there for me."
Carol and Deeanne's friendship remained strong throughout Deeanne's teen years and when she turned 18, the time when the match officially dissolved, the two never considered ending their connection.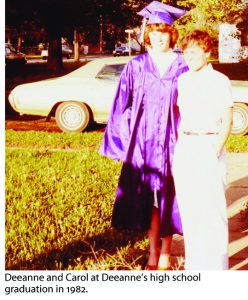 "So many things have changed in the course of our lives, but our friendship has remained steadfast," Carol says. "We have stood by one another through all the good and bad times. Our friendship never wavered." Deeanne even served as maid of honor when Carol remarried after her first husband's death.
For her part, Deeanne says Carol's support was an important part in healing wounds associated with her upbringing and forgiving her mother. "Carol was with me for every part of my mother's struggle with lung cancer, which brought her to her untimely death," Deeanne says. "At this point, I found the strength, again with Carol's unfailing support, to love my mother unconditionally through her greatest time of need."
Carol also believes she has benefited from the friendship. "I realize that the Little in the relationship is supposed to benefit the most from the match; however, I do not feel that is necessarily true," Carol says. "I am so blessed for having Deeanne in my life. I only hope and pray that nothing ever threatens our closeness and that we will remain best friends the rest of my days."