Back to Blog
Teen volunteers despite brain injury.
---
16 year old named Barry County Outstanding Mentor of the Year
It is easy to assume that a teenager who survived a serious accident would scale back all activities to concentrate on recovery. However, in the case of 16-year-old Carley Dole this assumption would be wrong.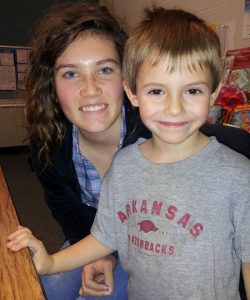 Even though she suffered a traumatic brain injury in March 2012 after being knocked unconscious by her horse, Carley was eager to become a Big Sister. Despite facing a long recovery, she spent this past school year mentoring a student at McFall Elementary in Middleville.
The Barry County United Way & Volunteer Center recently presented the Outstanding Mentor of the Year award to Carley for her role as Big Sister to her Little Brother Jonathan. Carley was nominated by Kim Metzger, Barry County coordinator for Big Brothers Big Sisters, A Community of Caring.
"Carley has done an amazing job in reaching out to her Little to begin developing trust," Metzger says. "Even though they have only been matched one school year, Carley has already made a positive impact on her Little Brother's life."
That she was able to develop an influential relationship with her Little Brother Jonathan during such a challenging time is remarkable, Metzer says. "Carley, in the midst of her difficult recovery, chose to continue to give back to her community. Even when things are 'normal,' many of us find it difficult to give of ourselves so it is truly inspiring for Carley to give of herself in the midst of her recovery when very little was normal."
Carley's high school principal agrees. "In situations that most young adults may have given up, Carley has persisted with a positive attitude and perseverance that I truly admire," says Tony Koski, Thornapple Kellogg High School principal. "Through these very challenging personal times, Carley is still driven by her passion and purpose to serve others. She especially wanted to make sure she could still serve as a mentor in the Big Brothers Big Sisters program. Carley is a role model and one of Thornapple Kellogg High School's finest."
For her part, Carley does not intend to stop volunteering and will continue to mentor Jonathan throughout the rest of her high school career. "I want to give back to my community by giving of my time to help others," she says. "I want to be a part of contributing positively to the community and I think working with people is a great way to make a positive difference."