Back to Blog
Stryker employees, interns champion BBBS cause
---
On June 8, the streets of downtown Kalamazoo were full of life-size s'mores. More than 50 Bigs, Littles, board members and staff walked in the annual Do-Dah Parade as a way to let the community know, "We Need S'More Mentors!"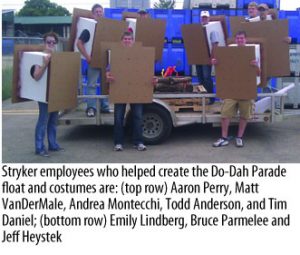 While the theme for the parade entry came easy, bringing it to life was a real challenge. "We wanted to make 50 s'more costumes and have a fake fire on the float with people roasting giant 'marshmallows'," says Kathy Praedel, BBBS partnership manager, "but we didn't have the time or the skills to make it happen.
"Then, a group of Stryker employees chose our agency to be the first non-profit to benefit from the company's new Champions for Change program," Praedel says. "The group volunteered their creative and engineering talents to create our Do-Dah Parade float and s'more costumes."
The Stryker Champions for Change group dedicated more than a full day to the project. "The result was a very eye catching parade entry that helped us get our message out to the Kalamazoo community in a fun, entertaining way," Praedel says. "We never could have done it without them!"
Andrea A. Montecchi, director of supply chain relationship management at Stryker Instruments, says that a partnership with Big Brothers Big Sisters is a natural fit for the company. "There are many wonderful opportunities for support in our community," Montecchi says. "We believe that our greatest contributions – our legacy – are held within the future achievements of young people. Big Brothers Big Sisters provides a terrific environment and partnership that helps develop bright young people for limitless futures.
"Working with BBBS is our way of creating an ongoing legacy. Plus it is a great team engagement tool and it's fun!"
The partnership with the company grew recently when the Stryker interns selected Big Brothers Big Sisters' proposal to adopt the agency for their annual community service day.
"Typically, community service days include a lot of physical projects but we wanted to utilize the interns' intellectual capital," Praedel says. "Sixty Stryker interns from 13 different universities spent a day brainstorming on how we can improve our annual Bowl for Kids' Sake fundraiser." Because the interns represented a variety of majors – from engineering to marketing to business – they generated useful and creative ideas, Praedel says.
Following the day of brainstorming, the Stryker interns helped the agency host a summer cookout for Bigs and Littles. The interns held a mini college fair to introduce Littles to their schools and encourage them to go to college. They also distributed free books to encourage Littles to read throughout the summer.
"We appreciate our partnership with the Stryker Corporation," Praedel says, "and look forward to collaborating on a variety of projects with the Stryker Champions for Change team throughout the year."